Rihanna-inspired photo shoot
Recently I had the pleasure of working on two fashion photo shoots with Yollanda Musa. This was really good luck for me, because not only is Yollanda an excellent model, but she was perfect for a "Rihanna-inspired photo shoot" that I have been planning.
The aim was to shoot a petite, pretty, and very feminine young lady, totally "holding her own" in a macho environment. The location we used for the shoot was a factory/warehouse. Although the factory is very busy during the week, parts of it are very dirty and have a semi-derelict appearance. This made it a perfect location for our photo shoot.
Yollanda's character was inpired by a role that Rihanna plays in a film called "Battleship", in which the US Navy defeats alien invaders. Rihanna plays a weapons expert who is… petite, pretty, and very feminine. But she totally holds her own with the "big boys" in an extremely macho environment. Later in the shoot we have smoke and action!
Make up by Viya La Belle
Yollanda asked an excellent make up artist, Viya La Belle, if she wanted to work with us on our Rihanna-inspired photo shoot. And she did an excellent job. In due course I will upload more posts from this photo shoot, but In this first post I have included a "behind the scenes" photo of Viya La Belle making some adjustments to the make up. Please note that Yollanda is standing on a wooden palette in this photo, and that makes Viya look shorter than she is! In all fairness I should make it clear that Viya span most of her make up magic in a much nicer, cleaner, and more comfortable place!
I have also posted two close ups that show the quality of Viya's make up.
Photography methods
In due course I will be uploading more posts about this photo shoot, which went extremely well. Later we used smoke and action! But in the meantime please enjoy these images.
I was using a mix of Nikon speedlights, and portable battery powered studio flash (made by Ilux). I triggered the flash heads using wireless radio transmitters. Lighting modifiers were mainly softboxes and small reflector dishes (approx 21cm diameter). The cool blue backgrounds were acheived by setting the camera to "tungsten white balance" and putting coloured gels over the flash heads, to make the light they emitted appear "white" to the camera.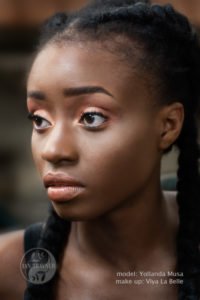 Acknowledgements
Model: Yollanda Musa (she is wearing her own clothes)
Make up: Viya La Belle
Assistants: Martin Brown and Steve Brown
Behind the scenes
These "behind the scenes" photos were taken by Martin Brown, and I am very grateful to him for allowing me to share them with you.