Creative Fashion Shoot with Linda Blissett, Cerys Wrigley-Moss, Karen Messam and Teresa Opiala
This creative fashion shoot was inspired by a series of photographs taken by Lindsay Adler.
The Aim
I wanted my model to wear red, or possibly red and black, against a red background. Her make up would have to match, and I wanted to add movement into some of the images.
The Creative Team
For a fashion shoot like this it is important to have a good team. The first thing I did was invite Linda Blissett to come on board as the clothing designer and stylist. I have admired Linda's style for a long time, and I realised that some of her designs would be ideal for this project. I was also eager to meet her, because she has always been very friendly on the phone, and chatting online.
I was delighted when Linda agreed, and once she was on board everything became very easy for me. That is because Linda invited the rest of the team without me having to do anything. Brilliant!
Designer and clothing stylist: Linda Blissett
Model: Cerys Wrigley-Moss
Make up: Karen Messam
Hair stylist: Teresa Anna Opiala
I am happy to say the team worked brilliantly well together, and I have to give a lot of credit to Cerys's mum Karen Wrigley-Moss too, because she came along and her help was invaluable.
Linda and I chose the garment we felt was most suitable, and we gave Karen Messam and Teresa Opiala free reign to interpret the brief in their own way.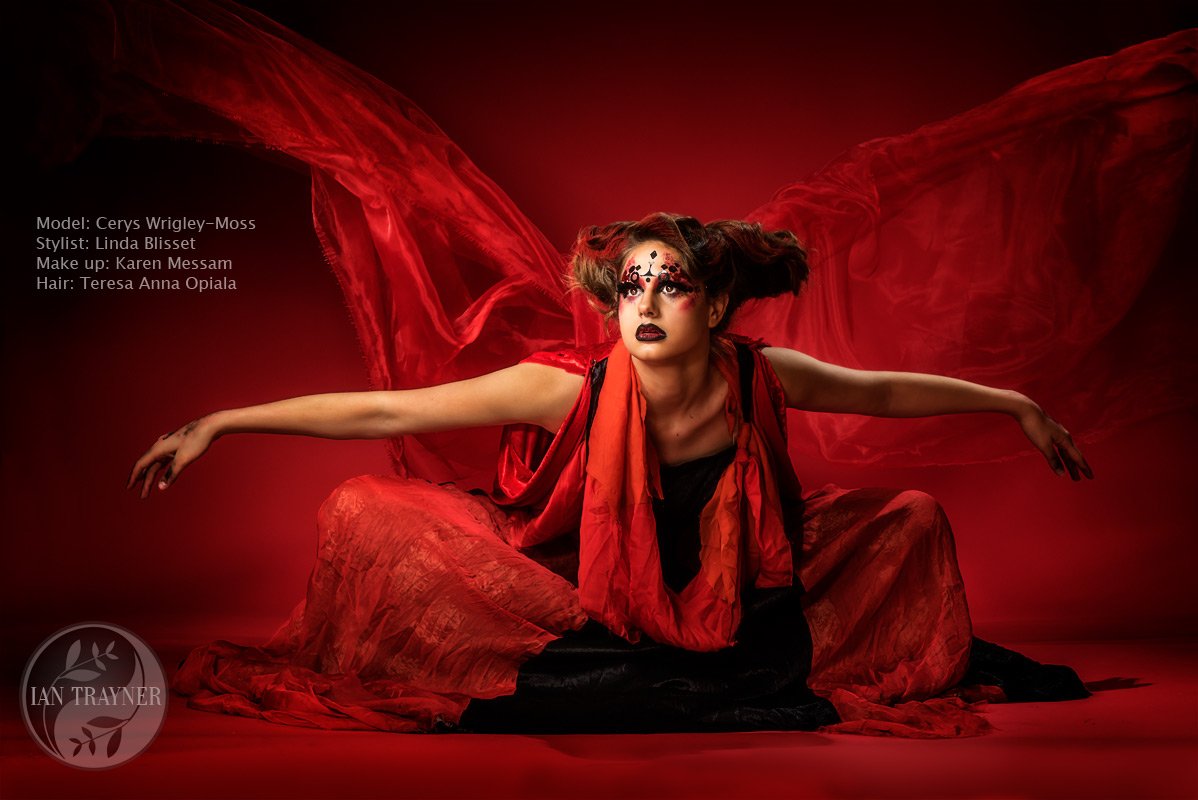 Photography Methods
This creative fashion shoot was done in my photo studio in Kingston upon Thames, Surrey.
The red background is a paper roll, lit evenly using two studio flash heads, one on either side. These heads were each fitted with a 140x30cm soft box. In some shots, two people, standing at either side, waved a lightweight red cloth up and down. I added some patterns and textures to some of the other images in post production. You may notice I added the appearance of shadows from a tree in one image too.
The face of the model, Cerys Wrigley-Moss, is illuminated using a beauty dish fitted with a grid, and her lower body is illuminated with an LED light panel. The latter provides a continuous light source that is adjustable, and has the same (or very nearly the same) colour temperature as the studio flash heads (ie if the white balance on the camera is set to "flash", the light from the LED appears to be white too).
What this means, is that the photographercan have some areas of the image blurred (due to movement of the model) while other areas are sharp (due to the speed of the flash). This is accomplished using a slow shutter speed. Finding the best speed is a matter of trial and error, and will depend on the effect the photographer wants to create. In some of the above images, Cerys's lower body is blurred due to her moving, while her face and head remains sharp.
I also added a speedlight above Cerys's head to give some highlights to her hair.